Synthetic Turf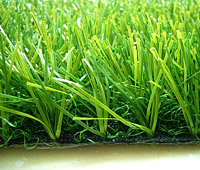 Planning for lawn improvement can be difficult sometimes. The green grass on the lawn alone, for instance, can be costly and can be very hard to maintain in the long run. Add this up to the question of choosing between sod & synthetic grass, the whole project can very much become a very confusing venture. Read on and find out what is better to choose between the two options and who to call for help when you decide to get one for your lawn.
Natural or Artificial?
Natural sod & synthetic grass has their own share of pros and cons. Basically, there is no right or wrong choice between the two but what you must choose is something that will meet your needs and standards as a lawn owner. Here are some facts comparing the two options for your lawn:
Cost. Buying a natural sod is less expensive because they are natural and have not gone through expensive production process as compared to artificial ones. However, this does not mean that natural grass is cost-effective. For instance, artificial grass may have more expensive price tag but it does need to be cut, fed, watered, and treated in the long run. Hence, natural grass may be more expensive to maintain in the years to come.


Texture. Natural grass is of course softer while an artificial grass, being synthetic, has a less natural feel. Sometimes, it can cause abrasions once fallen on.


Environmental concerns. Sod is a living grass so it can, one way or another, help in balancing out air pollution. However, sod requires the use of water regularly so it is not ideal for those who are saving water.


Health concerns. A lot of news has gone out of the press about health concerns of artificial grass containing lead, cadmium, and a lot of other toxic ingredients. There are no problems like this with real grass. However, it can be noted that in good quality synthetic lawn that is produced by a reliable manufacturer, health issues are never a factor anymore because they are often made with safe materials.
People have different views when it comes to sod and synthetic grass. Others will go for natural ones even if they are more expensive to maintain. However, some will go for synthetic grass for their lawn because in the long run, they are cheaper and more convenient to maintain.
Who to Call?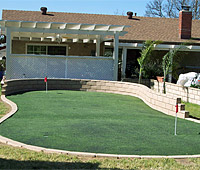 For your sod & synthetic grass needs, you can rely on Turf-Care. We are a company specializing in lawn installations whether you choose natural sod or synthetic grass. You can give us a call and our staff will help you choose which kind of grass will best serve your needs.
Today, we serve several areas in California including Santa Maria, Orcutt, Guadalupe, Nipomo, and so much more. Whatever your lawn need is, we will be happy to do the work for you. You can expect not only experienced professionals but also good quality sod and synthetic grass ready to be installed in your lawn. Contact us right now for a free consultation and estimate so we can advance towards getting your project started.
Areas We Service:
Arroyo Grande, CA
Cambria, CA
Cuyucas, CA
Grover Beach, CA
Guadalupe, CA
Lompoc, CA
Los Alamos, CA
Los Osos, CA
Mission Hills, CA
Morro Bay, CA
Nipomo, CA
Oceano, CA
Orcutt, CA
Paso Robles, CA
San Luis Obispo, CA
Santa Maria, CA
Vandenberg Village, CA