Irrigation Repair and Installs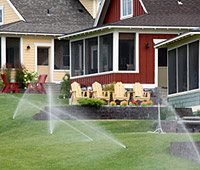 An irrigation system is very essential for most gardens and lawns. It very well helps in offering convenience when watering the plants as well as helps in conserving water and energy. This is true not only for commercial gardens and lawns but also even when speaking of residential properties. Commercial and residential garden owners must both take into account that installing an irrigation system is very essential towards the proper care of their landscape.
If there is already one installed, maintaining it to good levels is essential as well for getting the best out of it. With this, the help of a professional company who can deal with both irrigation repair & installs must be sought after.
Irrigation System Installations
There are two common irrigation systems to choose from for gardens. They are the sprinkler system and drip irrigation system. Your choice of irrigation system must depend on your needs.
Watering lawns. If your main concern for irrigation is water the lawn, an underground sprinkler system is a good choice. Automatic sprinkler systems will power up during set times of the day for a care-free maintenance of the lawn.


Watering perennial gardens and hedges. For this type of garden, a drip irrigation system is recommended. This works to deliver water right to the plants' roots and misses the weeds and walkways.


Watering vegetable gardens. A vegetable garden will also benefit more on a drip irrigation system for the same reasons why perennial gardens benefit from such system.
Both the sprinkler and drip irrigation systems can be converted into automatic systems to help water plants without much supervision. In fact, another main benefit of an irrigation system is that they can be scheduled for vacation watering. So even if you are out for a week or two, you can rely on these irrigation systems to water your lawn and garden plants.
Irrigation System Repairs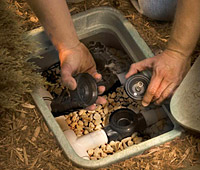 In time, an irrigation system can fail. Hence, repair is necessary. As much as possible, repairing an irrigation system must be given attention right away because leaks, for instance, can promote wasting of water and energy.
Although a lot of irrigation problems can be attended by do-it-yourselfers, it is still necessary to find a company that can help with the job of irrigation repairs. Professional companies have the right knowledge, tools, and manpower to correctly deal with the given problem.
Getting Help from Experts
For your different irrigation needs such as irrigation repair & installs, you can contact Turf-Care. We deal not only with the installation of different kinds of irrigation systems but also repairing damaged irrigations. Our team of experts is trained to do the job with perfection and we employ the best tools and materials for every irrigation project we handle.
Currently, we cover several areas in California including Orcutt, Santa Maria, Guadalupe, Arroyo Grande, Oceano, San Luis Obispo, Vandenberg Village, Lompoc, Mission Hills, Los Alamos, Grover Beach and Nipomo. If you are anywhere in these areas, you can expect the best irrigation installation and repair jobs for you. Just give us a call anytime you are free and we will be happy to provide you a free consultation and estimate.
Areas We Service:
Arroyo Grande, CA
Cambria, CA
Cuyucas, CA
Grover Beach, CA
Guadalupe, CA
Lompoc, CA
Los Alamos, CA
Los Osos, CA
Mission Hills, CA
Morro Bay, CA
Nipomo, CA
Oceano, CA
Orcutt, CA
Paso Robles, CA
San Luis Obispo, CA
Santa Maria, CA
Vandenberg Village, CA