Outdoor Kitchens and Fire Pits
Creating an outdoor living space can be as simple as a getting outdoor kitchens and fire pits. Truly, with a very functional kitchen in the backyard, your family can enjoy the extended living space. This is not to mention yet that an outdoor kitchen can transform your backyard into a more inviting space for both family and guests all year round.
What Makes a Perfect Outdoor Kitchen?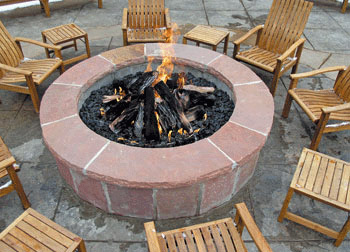 An outdoor kitchen may be simple or luxurious depending on your budget. More often than not, the more complete your kitchen is, the better its functionality will become. Check out what makes a perfect outdoor kitchen here:
Fire pits. Fire pits can very well help you experience the roasting of marshmallows during a warm summer evening. Homeowners have various choices when speaking of fire pits. The selection of materials, for instance, is so wide that everyone can decide on a material that will work best for the overall landscape theme. Choices of materials for fire pits include rustic natural stones such as river rock, sandstone, flagstone, and fieldstone. There are also man-made stones that can be used in various colors, shapes, and sizes depending on what look you are trying to achieve.
BBQs. Installing BBQs in your outdoor kitchen can open ways for your grilled specialties. You can always find a good bonding experience with family members by grilling steaks and burgers every now and then. You can even easily throw barbecue parties outdoors for all your friends to experience.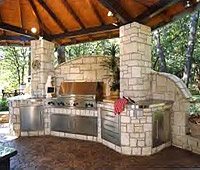 Islands. The most perfect of all outdoor kitchens must have an island complete with stove, counter, and sink. Having an island in the patio will make the space not only more sophisticated but as well as more functional. The most popular outdoor kitchen islands today are the brick ones.
With carefully chosen and designed outdoor kitchens and fire pits, there is no wonder that every landscape will be more than just complete. The effort and expenses a homeowner spends in line with the project can be all worth it in the end because outdoor kitchens are extended living areas as well as an added value to any home.
Outdoor Kitchen Installation
If you need an outdoor kitchen or fire pit, always look for experienced and reliable company. Clients from California should not look farther because you can rely on Turf-Care for your outdoor kitchen and fire pit needs. We are a dynamic company that works with excellence. Our team of experts is very well skilled in outdoor kitchen installations. We are all willing to share our expertise to help you design and install the outdoor kitchen you are envisioning to have.
Currently, we service several areas in California including Nipomo, Santa Maria, Orcutt, Arroyo Grande, Oceano, and a few others. You can simply give us a call or email and we will be happy to give you a free consultation with regards to the landscape project you have in mind. You can trust that Turf-Care will work with you hand in hand to give you the best outdoor kitchens and fire pits.
Areas We Service:
Arroyo Grande, CA
Cambria, CA
Cuyucas, CA
Grover Beach, CA
Guadalupe, CA
Lompoc, CA
Los Alamos, CA
Los Osos, CA
Mission Hills, CA
Morro Bay, CA
Nipomo, CA
Oceano, CA
Orcutt, CA
Paso Robles, CA
San Luis Obispo, CA
Santa Maria, CA
Vandenberg Village, CA