Landscape Lighting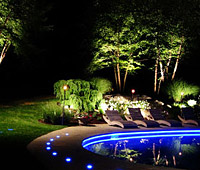 Every lawn or landscape need to be aesthetically pleasing and secured by the use of landscape lighting. Turf-Care Lawn and Landscape Service offer these great landscape lighting tips and tricks to our clients in California. We specialize on professional design, installation, and maintenance on different landscape services, including landscape lighting.
We have a vast collection of landscape lighting concepts and materials that will surely fit the preferences that you have for your landscape. Our resident landscapers understand your needs especially for knowing the ones that will be best for making your outdoor more inviting while having convenient visibility at night.
What to Consider in Selecting Landscape Lighting
The placement, angle and color of landscape lightings are very important for every lawn or landscape. Our landscapers can give you various plans and concepts that will match the theme that you want. Our sets of lights can be great for your new or existing landscape.
Your outdoor lighting can be spectacular in its beauty while rendering a safe and welcoming atmosphere. Among the perfect landscape lighting today are the solar lighting. A solar exterior lighting can add beauty and charm to any outdoor living area while still having the economy in power. Also getting more and more popular today are the low-voltage landscape lighting systems. They usually come with a comprehensive step-down transformer. You can find low voltage fixtures to complement them.
In case you need to install the landscape lighting onto the water, it will be a great idea since the effect at night will be something really awesome. But, you need to make sure that they are carefully installed because of the danger of short circuits. Nonetheless, you do not have to worry about this with Turf-Care Lawn and Landscape Service since we have well-trained experts to design and install your lighting.
Simple to Complicate Designs of Landscape Lightings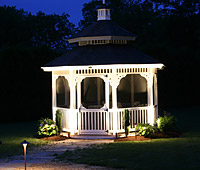 There are lots of effects, from simple to complicated designs. Try experimenting with the styles that can bring major changes in your outdoor living area atmosphere when evening comes. Just imagine a not too sinister with a reddish mood garden, while it is cool at night, it will bring you a warmer feeling with the lights.
Landscape lighting can really change the moods of your lawn and landscape but remember, the perfect effects will just be brought out if you will entrust the lighting task to the experts like Turf-Care Lawn and Landscape Service.
Where to Go for the Best Landscape Lighting
We can also prepare beautiful footings for lighting fixtures with the fixture standards and empty conduit for future landscape lighting. We make wise planning and implement safety features with regards to secure electrical settings and aesthetics.
Take note that not just for aesthetics and visibility that you are up to when installing landscape lighting, the purpose of the proper installation is to increase the value of your property. If you are confused about what choices you are going to make for your landscape lighting, make sure that you run to Turf-Care Lawn and Landscape Service.
Our office is open to any landscape service inquiry including pavers, fencing, irrigation, outdoor kitchens, wall construction, and more. You can call us at your most convenient time if you wanted some urgent questions answered; dial 805-748-5545 now.
Areas We Service:
Arroyo Grande, CA
Cambria, CA
Cuyucas, CA
Grover Beach, CA
Guadalupe, CA
Lompoc, CA
Los Alamos, CA
Los Osos, CA
Mission Hills, CA
Morro Bay, CA
Nipomo, CA
Oceano, CA
Orcutt, CA
Paso Robles, CA
San Luis Obispo, CA
Santa Maria, CA
Vandenberg Village, CA