Landscape Contractor Central Coast, CA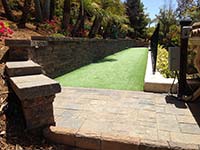 Turf-Care is one of the most sought-after landscape contractors in Central Coast, CA. We have lengthy experience in the industry and the capabilities to work on any type of landscaping project. Our clients are assured of topnotch services regardless of the scope or requirements of their project. From design and installation to maintenance of various landscape features, we are the right landscape contractor to hire. We are confident that you will be more than satisfied with the results of our work since we employ seasoned landscapers, plant experts, irrigation and lighting technicians, paver installers, and other well-trained professionals. Our technical expertise in landscaping is one of the reasons why most property owners in Los Osos, Paso Robles, Morro Bay, Cuyucas and Cambria choose us to develop and maintain their landscapes.
Experienced Landscape Contractor in the Central Coast
Turf-Care has all the qualities you need from a competent and reliable landscape contractor. Since we opened our business years ago, we always aim for the best possible results for our Central Coast clients. We value our reputation and the clients' trust in us, so we always ensure the quality of our work. We regularly update our people on the latest landscaping trends to make them better landscapers. Efficiency is also one of our primary concerns, so we equip our crews with modern tools and equipment. In addition, we can easily provide clients with their needed landscaping materials because of our partnerships with the leading suppliers and manufacturers in the country. With these capabilities, we can compete with big landscape contractors in the state but still offer competitive rates.
Complete Landscaping Services
A lot of property owners in the Central Coast area are now choosing Turf-Care because of our comprehensive landscaping services. With us, they don't have to hire several contractors to work on their outdoor improvement projects. It is also easy and hassle-free to work with a single landscape contractor than dealing with 2 to 3 service providers. And the best thing about hiring us is that you will get our complete landscaping package at client-friendly rate.
Here are some of the services we offer to our California clients:
Synthetic turf. Turf-Care is an expert synthetic turf installer. We have already installed thousands of square feet of synthetic turf in residential and commercial properties in the state. The turf that we use is made from the finest materials and designed to look like natural grass.


Landscape design and installation. Choose our landscape design and installation services if you want a worry-free landscaping project. We will take care of the planning, design, and installation of various landscape features and amenities in your property.


Outdoor living features. At Turf-Care, we can design and build for you functional outdoor living structures such as patios, pool decks, outdoor kitchens, sitting areas, and gazebos. These are all custom-designed to improve the aesthetic appeal of our outdoor space.


Fire and water features. A perfectly designed landscape should have fire and water features. These water amenities will create a unique and relaxing ambiance in your outdoors. And if you need an expert landscape contractor to build these features, just call us at Turf-Care.
The other services that we offer to our Central Coast, CA clients include paver installation, design and maintenance of irrigation and drainage systems, installation of landscape lighting, building retaining walls and fences, and other concrete works. Please call us at (805) 748-5545 to get more details on our comprehensive landscaping services.
Areas We Service:
Arroyo Grande, CA
Cambria, CA
Cuyucas, CA
Grover Beach, CA
Guadalupe, CA
Lompoc, CA
Los Alamos, CA
Los Osos, CA
Mission Hills, CA
Morro Bay, CA
Nipomo, CA
Oceano, CA
Orcutt, CA
Paso Robles, CA
San Luis Obispo, CA
Santa Maria, CA
Vandenberg Village, CA