Concrete Work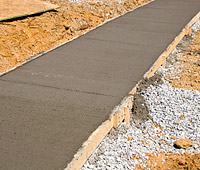 Concrete work comes along with general construction, renovation, repairs and even maintenance of buildings, houses, offices and everything that it may apply. Every concrete work should only be done by experts in this area. Though there are many constructions firms who can offer concrete work services, not all of them can provide excellent results.
Concrete Works Should Adhere to Safety and Quality Standards
Every concrete project should adhere to safety and quality standards. Moreover, a contractor should guarantee that every concrete work is free from defects and followed the specification of the client even if it is a small project. This is the reason why Turf-Care is very meticulous in implementing concreting projects.
How Concrete Work is done?
Basic information on concrete works is discussed below to give you an idea why concrete projects should be handled by experts. Proper handling and mixing of the components is very significant in any concrete work. The basic materials used in concrete works are cement, water and aggregates. Concretes are prepared manually or by mixer equipment.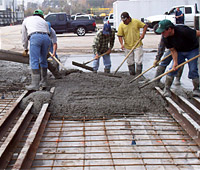 Next is the application to the area with correct leveling. It is followed by finishing either smooth or rough finish. This process should be done carefully. Rubbing materials are used to smooth out the concrete. A trowel is used to give the concrete a finishing touch.
How to Achieve Best Results for Concrete Works
Designs can be done along with the process. Such concrete work must be given time to cure. The concrete surface should be kept wet down by constant sprinkling with a fine mist. Proper moisture is observed to avoid cracks along the newly concreted area until it hardens well. Additionally, a guard rail should be positioned around it to keep any animal or person from walking on the surface until it is all dry evenly.
During the curing period there are still many things to consider. A contractor should put into consideration the weather condition. Concrete laid in direct sun should be covered with a light material or building paper to serve as protective covering. A concrete work needs ample time to dry to achieve maximum strength and avoid any damage to the concrete project.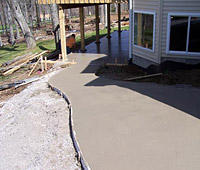 Experienced Contractor for Concrete Works
What makes concrete work easy for us? We are one of the few companies in California with years of experience in concrete works. Turf-Care Lawn and Landscape Service is at the frontline of paving stone installation. We continually work for industry leadership and warranty our work from the minimal job and up. Either small or big project, we always believe that you are our driving motivation to achieve excellence and be more expert in the industry.
Do not hesitate to call us for any inquiries or just visit our office in case you want to make a formal consultation, not just regarding with concrete works but also with other expertise that we have such as landscape designs, maintenance, outdoor kitchens, drainage systems, irrigation repair and installation, and more. Turf-Care is always committed to provide reliable and durable concrete works.
Areas We Service:
Arroyo Grande, CA
Cambria, CA
Cuyucas, CA
Grover Beach, CA
Guadalupe, CA
Lompoc, CA
Los Alamos, CA
Los Osos, CA
Mission Hills, CA
Morro Bay, CA
Nipomo, CA
Oceano, CA
Orcutt, CA
Paso Robles, CA
San Luis Obispo, CA
Santa Maria, CA
Vandenberg Village, CA