Landscape Design and Construction
Landscaping is very essential for space development these days, whether it is for residential or commercial real estates. People want a very functional and appealing landscape outside their properties not only to please people but also to increase the value of their properties. Hence, more and more people are after good landscape design and construction. After all, the success of every good landscape can be credited only to good quality design and construction.
Professional Designing and Construction
If you are thinking of designing and constructing your landscape, always ensure that you get the help of a professional from start to finish. Take note that a good deal of difference in the output can be seen if the project is attended by experienced and skilled professionals.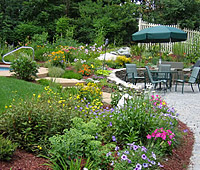 Here is a complete line of the responsibilities that landscape design and construction professionals can help you with.
Designing. Planning for the whole project is one of the most important jobs professional landscapers face when doing projects like this. In designing, it is not merely a question of what looks good or not, but often, this is a question of what will work for the space and what will answer the needs of the client. Some things that are covered during landscape design include incorporating the aesthetic effect desired, providing solutions to problems on the site, and addressing the practical requirements set by the client. A good design and plan is then constructed that will become the guide in the construction process.


Construction. Landscape construction involves a lot of details. This includes site work, hard construction, planting, accessorizing, and then maintenance. Site work involves preparing the land for the construction process such as clearing the area from trees, leveling the land, excavating, and the like. Hard construction, on the other hand, involves the creation of the landscape elements such as steps, driveways, walls, fences, and the like. Accessorizing is the process where specialty stuff is added including furniture and recreational facilities.
A very good landscaper is expected to do all parts of the work with efficiency and quality. Never will a company be a good choice if they are only efficient in creating a design but not in constructing the landscape.
Getting Help from Reputable Landscape Company
If you need a professional landscaper, Turf-Care is a company you can trust. We have in our team the experts in landscaping from the designing to the installation and even maintenance. Our company offers everything you may ever need for your landscape projects.
Currently, we service several areas in the state of California. This includes Santa Maria, Orcutt, Guadalupe, Nipomo, Arroyo Grande, Oceano, Grover Beach, San Luis Obispo, Vandenberg Village, Mission Hills, Lompoc, and Los Alamos. If you need landscaping in these areas, we will be more than happy to be of service to you. You can always give us a call for a free consultation and estimate in whatever landscape design and construction project. You can also use our Free Estimate page to contact us online.
Landscape design and construction is never a simple job. Hence, it must always be consulted to professionals. Turf-Care is one company you can trust here in California. We make sure that every project we make is done at the best quality possible.
Areas We Service:
Arroyo Grande, CA
Cambria, CA
Cuyucas, CA
Grover Beach, CA
Guadalupe, CA
Lompoc, CA
Los Alamos, CA
Los Osos, CA
Mission Hills, CA
Morro Bay, CA
Nipomo, CA
Oceano, CA
Orcutt, CA
Paso Robles, CA
San Luis Obispo, CA
Santa Maria, CA
Vandenberg Village, CA