Ponds and Water Features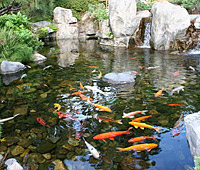 Without a pond or any water features, a landscape may look incomplete. For some, a simple lawn with the hills and fireplaces may be enough but for you, waterfalls, fountains, and ponds should be there to complete your outdoor living.
Any water feature can always give a happier and livelier ambiance, especially when they are wonderfully designed and installed. This is the reason why Turf-Care Lawn and Landscape Service is committed to provide exceptional professional services on ponds and other water features.
The Peaceful Effect of Water Features
The ponds, waterfalls, fountains, and other water features created by Turf-Care will surely add a peaceful natural beauty to any property. These will elegantly mark your outdoor living area as an inviting and relaxing place to be in. In addition to the benefits of having the water features in your landscape, the value of your property is also increased.
Perfect Location for Ponds and Water Features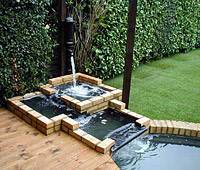 For any landscape, the big decision to make is the location of the pond. With this, it is important to get the place where there is adequate sunlight. The water plants and vegetation will die if they are always under the shed. Make sure that there are fewer trees around the pond. The falling leaves may also ruin the beauty of your pond.
The water supply needs to be accessible to prepare yourself for the summer. The design of ponds needs to be safe for the kids who will play around. This is not a problem because Turf-Care has a lot of experience when it comes to creating ponds and water features so you are assured that these things are always taken into consideration. We know what design is safe and there should be no worries on your part because we always prioritize your satisfaction and safety.
As you invest your time and money for your landscape, you have to make sure that you will not regret any of your decisions. The location in your backyard or anywhere in your lot should be decided wisely. For most people, it is good to put it farther from the house so you can view it from a distance. It is also great if your pond will have a more natural look.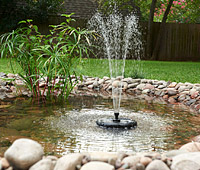 With regards to the vegetation around your pond, you should make sure that every plant will be kept from flourishing. Also anticipate the parasite attacks or the outbreak from toads and frogs. These situations can be handled but it is better to prevent them from happening. Don't worry because Turf-Care Lawn and Landscape Service can help you do the preventative measures.
Various Types of Ponds and Water Features
from Turf Care
Your pond may come from waterfalls and fountains, as the free-standing fountains, which are built in with pumps. There are various shapes, sizes and materials for these water features. Turf-Care can make a long list of recommendations that will satisfy your preferences or needs.
In case you wanted to try our services in designing and installation of your ponds or any water features in your landscape, make sure that you give us a call. You might also want to visit our office that is just around Nipomo, California. Feel free to consult us any time you want during the day.
Areas We Service:
Arroyo Grande, CA
Cambria, CA
Cuyucas, CA
Grover Beach, CA
Guadalupe, CA
Lompoc, CA
Los Alamos, CA
Los Osos, CA
Mission Hills, CA
Morro Bay, CA
Nipomo, CA
Oceano, CA
Orcutt, CA
Paso Robles, CA
San Luis Obispo, CA
Santa Maria, CA
Vandenberg Village, CA